Now Is the Time to Create Your Outdoor Oasis
Posted by Emily Grimshaw on Wednesday, August 12, 2020 at 11:43 AM
By Emily Grimshaw / August 12, 2020
Comment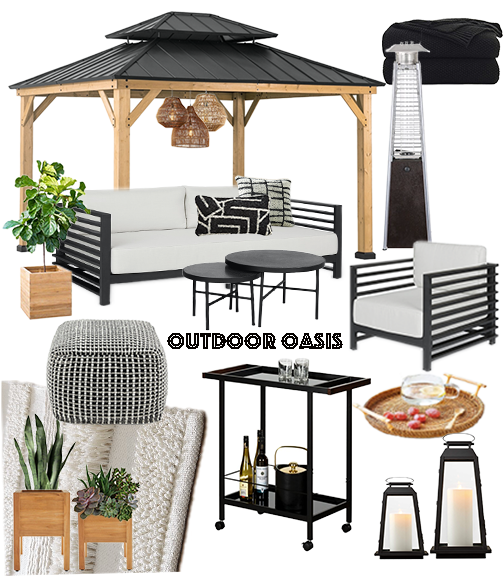 It's around 8:00pm on a Sunday evening. I'm sitting in the grass on the sidelines of the tennis courts in our beloved and adorable Baker Park in downtown Frederick, MD. It starts out soft, this noise I hear. It grows a little bit louder, and oh, a little louder. Eventually, it sounds like a swarm of bees literally buzzed straight into my eardrums! I despise what this sound means. The locusts (my teammate thinks they are cicadas…Google didn't settle the battle) sing their way to the ugly realization that my favorite season of the year is coming to an end. I try to remind myself to look at the bright side. It is time for PATIO FURNITURE SALES!
With social distancing requirements and the inability to be around others as much as previous years, an inviting patio has never been so appealing. Whether you love to entertain (with your chosen 'rona quaranteam) or you are in desperate need of escaping from your children to sit outside with a glass of wine, a cozy throw, and music, creating a welcoming space is the first step.
Cue the pergolas! What is it with my love for these this year?! I think it is the versatility in the way you can "style" them that draws me in. With so many pergola options to choose from, your mind will spin while deciding if you should create a contemporary, cozy, simple, Moroccan, or chic (among many other styles) outdoor space. Choose a pergola that matches the vision you have for your backyard, measure your space, and fall in love with all the options. Use the pergola you have chosen as your anchor to build off of when choosing furniture and accessories.
With so many great outdoor furniture sales out there right now, THIS is the time to focus on your backyard. There are plenty of days ahead to enjoy this space, and with an outdoor propane heater, you can enjoy being outdoors well into the winter months (at least in MD). One last bit of advice- buy weatherproof covers for your outdoor furniture! It will extend the life and possibly keep you from ever needing to bring the furniture indoors for protection from the outdoor elements. I'll link some inexpensive covers that come in all sizes and have held up well for me.
Enjoy pergola hunting, and cheers to a new outdoor space!